Post by Morgan on Feb 14, 2020 22:52:50 GMT -6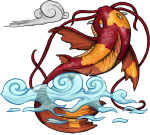 Pao | Female | 23/53
(Adult stats below, don't worry, there's no real need for stats right now anyway.)
Stamina: 8
Strength: 1
Resistance: 0
Dexterity: 20
Mentality: 1
Special Abilities: Swim, Fly, Refined Senses, Bioluminescence, Empathetic Link
Moves: Dodge, Surprise!, Balefire, Flash

Knows:
Tricks: Name, Come, No, Tolerance, Stay, Follow, Search, Land
Moves: Swim
Abilities: Danger Sense
Morgan was fairly quiet as they went out with Pao by herself today. There were some things that Morgan wanted to speak with her about, away from the 'lovebirds', and even away from the other tat-lung siblings. The truth was that Morgan didn't understand how Pao had come into Morgan's care, and they had looked into the information over time. They had gotten scant information in return, but they had long suspected that perhaps Pao would know more about this than theirself, though she was fairly quiet most of the time. Pao had been asking questions a million and one at a time; tat-lungs learned quickly but that didn't account for a lack of experience at all.
The bespectacled human gently allows Pao into the water of the docks, in a nearby offshoot, and then smiles down at her, using LSL and their ring that allowed them to speak to tat-lungs to converse with her quietly, about anything that she wanted to ask about. Morgan didn't mind waiting to get the information. There was no need to overdo it at all.
The sky had been threatening to rain all day, but it hadn't quite done so yet. It wasn't supposed to until night, and it was just about four in the evening right now so they should have time. Pao enjoyed the change in air pressure anyway, felt it through the water with her sensitive whiskers.
"They grow so fast..."

Morgan marveled, quietly, and without translating it to Pao. They crouched on the side of a dock that had seen better days, gazing down into the water at the large red dragon- still in fish form, but that wouldn't be for long. For now, it didn't seem like anyone was around, and it was how the human preferred it. They chose this otherwise pretty undesirable dock since it was typically

abandoned for better prospects for training sessions, and Morgan was built light enough anyway.