Post by Renathan on Apr 20, 2020 22:35:55 GMT -6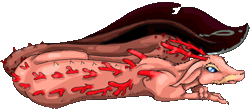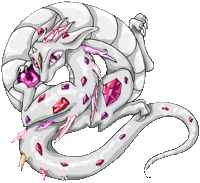 Sango wondered if others ever had that odd feeling- that feeling that perhaps something was going to go horridly wrong.
The Coral had been told many, many times before that he tended to over-react to different stimuli, but how could he not? The last time he had attempted an escape he had been cut quite harshly on the side of his snout (something he was still incredibly sore about since it marred his face) and this time it had been no better. Even as he enters the dream, he can feel the new injury- the one across the left side of his face. His mate would be surprised... Maybe she would even decide that they shouldn't do this after all. It would be a shame, to have traded one of his blue eyes for the coins filched from yet another ex-master if not for what he required them for. Kotori, however... She was safe for now, right? She managed to stay hidden quite a bit better than he did.

The voice urges him to go south, and he goes, following his heart to her. She would be waiting on him, his beloved Kotori, with her shimmering gems and lithe form. Hopefully she would still love him, even with his injuries- the scars he'd soon have (for her).

The truth was, he hadn't specifically wanted children himself, but Kotori? She desired them all the same. He knew that they really shouldn't do this, not until they escaped the city (each time he tried, he failed- falling into more and more humanoid hands- the inferior things)- but he did want them someday, and time was not a good excuse. Not for them. They had planned this out in advance.

She was indeed waiting for him, along the way, and she looked at him only for a moment before touching one of his paws with her own, supportively. A touch of concern, which he brushed off with an excitement and joy that he was surprised to find within him. Shall we? He asked in the non-words of the tat-lung body language, his ragged tail fan a banner in wind that did not truly exist, for this was a dream. She bumps him in the shoulder with her forehead, and then they are off, running playfully like youngsters in a dream in which their bones felt lighter and their spirits felt free.

The bad feeling from earlier was the farthest thing from Sango's mind as he watched his mate skid to a stop in front of the arbiter, having run across the field and down the hillock and even into the tunnels. He had scarcely kept up! The coral swallowed what felt like a lump in his throat. She was such a beautiful being, in mind and spirit. Much prettier than even the crystals that decorated this place in their splendor, even bodily. He... Wasn't. Not any of those things.



She still loved him though, he could tell. He was happy beyond words in any language he could consider. He has the coins, they feel cool in his palm, tethering him perhaps. He had paid a price for them, all the same. He hoped that once they escaped with their soon-to-be family, that his missing eye wouldn't be too much to hold them back in the 'wilds'. They'd find a place, just for them.

Had they come to answer the call? Kotori beams at her mate from his blind side. He trusted her to keep an eye out. Look at what they had given (for she had given up something very important for this as well, not that she meant to tell Sango) to answer their call! Yes. Her answer rang out, true. Her mate was quiet, but it was a happy sort of quiet. If he was humanoid, he might have cried. She, too. Perhaps in another world she had.



She'd always wanted a family, and if she had to make her own- well, that was fine too.



At the next question, the pair speaks in unison. Yes, we come to honor the old ways- to bear new life and care for them. They both meant the first part, but it was quite obvious that Kotori was hiding something, if ever so slightly. Sango did not notice- he was so nervous! How can a soon-to-be new father not be nervous? Kotori looked so serene, though... He couldn't take his gaze off of her, tilting his head to look at her with his good eye. The bells were comforting as well, but what really soothed Sango's heart was Kotori's look of love. She'd be a wonderful mother. He'd try to be a good father, too.