Post by Morgan on Sept 7, 2020 0:20:16 GMT -6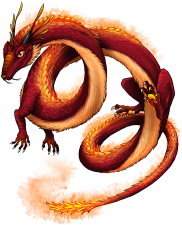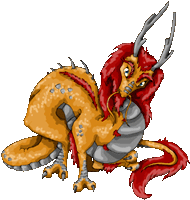 Pao had to be the happiest Tat-Lung in existence. She had a lovely family, with lots of brothers and even a sister, some nieces and nephews, a human to play the roll as her parent... Oh yeah, and two stunning girlfriends that loved her and each other very much. Yes, Pao could hardly imagine being happier- though she does wish that her girlfriends would come live with her. She understood though, that they didn't really want to live where she did, and Pao couldn't imagine leaving her family behind, even though she did love her ladies very much. She did also feel a little outcast from her family... She'd love to start a family. It was all she really wanted, at this time in her life.
It was a conundrum, that was for certain! However, Pao was happy for the most part, and spent a lot of time with her family and mates.
She can only imagine being happier when she finds out what the 'present' her girlfriends had gotten for her was. They had been hinting about a present for weeks, and Pao was starting to get impatient. She wanted to know what it was! She went to sleep one night right beside both of them (Morgan had stuck out their tongue, said 'yucky', and called it a tat-pile, but Pao knew it had been a joke, since they had also jokingly said that to Seimei and Ryuusei as they tended their nests) and woke up... In a dream.
A very special dream!
She turns around to look at the landscape of this amazing dream, and catches sight of her lovely girlfriend, Tsuki.
"Tsuki!"
She practically calls to her! She runs up and cuddles into her in the dreamscape.
"You two should have told me you were planning this- oh, but won't Tenpei be sad?"
She looks a little concerned. Tsuki shakes her head, chuckling.
"Doll, this is all for you!"
She replies.
"Tenpei doesn't really want to raise any, and you know my feelings on the matter- but you... We know you would love to have some of your own! So, if you will have us..."
Pao was completely overjoyed.
"Yes, yes, of course- I'd love- wait- Both of you?"
She could not be happier than she was in this moment.
"You mean, Tenpei also wants to-?"
Pao could hardly imagine that Tenpei would also want to have a clutch with her... It was really touching.
Tsuki playfully swats her with her tail tuft, and then scoffs.
"Of course doll, but we need to hurry. After all, Tenpei would like to start right after we're done here, so that all of our babies can grow up together."
She gives a loving, but sly grin to her beloved.
"You do think that the human would help you raise them? Four is a whole lot, and you know that we'll always be there for you if you need."
The Agate sets off after that, tail tip intertwined with Pao's.
Pao was so happy that had she been a human she would have cried.
"Oh, thank you both so much! This is my dream! I am sure that my human would serve them just as well as they serve me if I need them to."
Pao said, starting off down to the cave with the lady agate. While others (including Tsuki) probably spent time marveling at the gems here, Pao was buzzing with such excitement that she didn't really even notice their luster.
The pair show up in heart of the dream, and Pao takes her mate's twin-fingered front paw.
"Thank you so much, my love! I don't even know how I will make this up to you two!"
However, the agate simply smiled at her, nuzzles her mate's five-fingered paw, and then her muzzle.
"Okay, my love- we need to, well, you know."
Of course Pao knew, this was as instinctual for them as it was for other species to do, though their way was different of course.
Pao grins, widely. "Of course- of course." She conveys in the tat-tongue to her.

The pair speak in tandem, undoubtedly like Pao and Tenpei would in the next dream- "We have come to honor the old ways, and to bear new life and care for them." Pao was practically buzzing with excitement, tail twitching in anticipation. Tenpei simply regarded her mate with a loving gaze, and then focused on the ritual to be done ahead.