Post by NPC on Dec 19, 2017 22:59:34 GMT -6
Herbologists Delight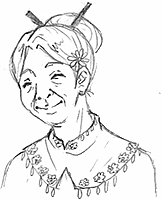 Alura - the Shopkeeper.
This store, unlike some others, is full of dignity. From the outside, it looks quite clean, and a wooden sign sits posted to the door - it's script is written with a delicate hand -
Herbologist's Delight
. The whole place is not unlike an old cottage from the outside, warm and inviting.
Inside the shop, it smells like fresh baked cookies, tea, and flowers, with a slight undertone of potting soil. There are always homemade cookies on the counter, as well as some samples of Alura's home grown tea. There are many flowers and seeds all around the shop, as well as some relatively small full grown trees dotted with flowers and Bellafaux. The special potions Alura brews are kept in a case behind the counter.
There is a door into a larger room, full of soil instead of carpet and many plants. Many of the creatures that are sold here run free about the room. There are no cages, though some of the more temperamental creatures are kept in pens most of the time. This room leads to yet another door, which goes outside. Outside in the enclosure are the creatures unable to be kept inside, including a pool for special Lotine, and a handful of rare Nyssa and Dragon Oaks.

Elah helps out around the shop, and can often be seen carrying flowers around.
Pets:
Any plant creatures of reasonable size are allowed in Herbologist's Delight. Creatures in need of a potion are allowed inside if they are well trained.
Trades and Sales
Alura is interested in purchasing items from the gardens. She will happily make trades for her wares, or give credits in exchange for such items.
Most items found in the gardens are worth
15 credits + 6-sided die
each. When the items are in season, their price increases to
20 credits + 10-sided die
each.
Flowers are in season in Spring, Fruits in Summer, Vegetables in Autumn, and Seeds and Berries in Winter.
Herbologist's Delight does not purchase Pocket Pets, even those found in gardens.
Species specific items are priced individually based on their rarity. They sell at a flat price, as listed below.

5 Credits
General Mushrooms

15 Credits
"Intoxicating" Mushrooms

20 Credits
"Poison" Mushrooms
Succulent Seeds
Vibrant Plume Grass

25 Credits
Sapling Spriteling Flowers

30 Credits
"Ultraviolet/Glowing/Magic" Mushrooms
Toxic Sludge

40 Credits
Healing Berries

50 Credits
Magic Acorn

100 Credits
Magical Berry

Special - Lola can be sold at 1d4 credits per 'quality', rolled randomly for each.