Post by Kadin on Sept 21, 2020 9:42:41 GMT -6

It was just another day at the office. And by office, I meant café, of course. They were still a fairly new place of business, so Rochelle wasn't concerned with the lack of customers at this early hour. Sooner rather than later she was sure that all of these trainers, leaving their large ranches for a day of training, would realize that her lovely establishment was the absolute perfect place to stop for a morning coffee and breakfast before a busy day of doing whatever it was humans concerned themselves with around here. Despite the lack of morning traffic, she still insisted that her own human be put to work at this ungodly hour. Someone with thumbs had to operate the cooking utensils, after all.
"Kadin~" Rochelle called out in a sing-song voice laced through with a purr. The general puttering noises from the kitchens continued on, no sign that he'd heard her. With a sigh and a quick glance towards the door to make sure no one was coming, Rochelle let out a screech that had
no business
coming from an animal as small as she was,
"KADIN!"
Bangs!
and
Crashes!
could be heard from the back, along with stomping footsteps that had Rochelle purring out another chuckle. Her human was so dramatic.
"What."
The kitchen door banged open and Kadin stormed through, what looked like cookie batter all down his shirt and streaking through his hair.
"Oh, dear me!" Rochelle exclaimed with a delicate gasp, one paw coming up to cover her mouth. "Kadin, my love, you need to be more careful in the kitchens! What are we supposed to do with you sampling the stock before we've even made a single sale?" She could her his teeth grinding from here. She didn't bother to hold back the purr from her voice. "Perhaps you need to go cool off? Please, take a break and go set up the new picnic area. I'm sure our customers will appreciate the outdoor seating and it'll give you a chance for some fresh air."
The human glared at her for several long minutes where she just stared back, complete unrepentant. Eventually, he broken, as she knew he would. He stomped past, taking off his apron and balling it up to chuck it back towards the kitchen door, and stormed out of the shop. She watched the apron partially stick to the door, thanks to the cookie dough, and then sadly slide down to rest in a lump on the floor. She tutted to herself and then perked up, pleased that she'd thought to stock so many extra aprons. She was an
excellent
shop owner.
Customer trickled in and out throughout the day. It was painfully apparently how new they were to the area. Kadin had changed his closed and grabbed a new apron some time between the morning and when the first customer wandered in. It wasn't until the late afternoon, however, that they had the first customer try out the seating area outside.
The was the sound of wings flapping and a thud. A human voice echoed, clearly saying some commands or another, then the door was opening and said human was storming through. Rochelle was behind the counter, as was her place, and Kadin was off in the back, probably sulking. She greater the new customer in her best customer-service trill, "Good afternoon, sir, what can I get for you today?"
Only for him to stare dubiously at her for at LEAST five seconds (she counted). She simply stared back, amused that he thought he could win a staring contest with an enileaf, but also plotting his demise a couple months from now, secretly, under the cover of darkness, just to keep her mind entertained. Eventually, he spoke!
"Yeah, whatever. I need a drink. Coffee, black. And send out two of each of your sandwiches. I have a wiurn outside and we're going to be eating there so you need to send someone to bring out our food. Someone
without fur,
" He sneered a bit and Rochelle moved up her timetable for the assassination by a week.
"Of course, sir, we'll have those right out to you! Please enjoy the picnic area, it's newly installed!" She said back, the picture of a friendly customer service representative. The customer stared at her a bit more which, rude, before finally walking out the door. Rochelle slumped a little bit with a barely suppressed growl of frustration, but she quickly perked back up when she realized she could have this one off to Kadin.
"Kadin!" She called, fluttering over to the kitchen door and landing on the ledge next to it which allowed her to speak directly in the back without worrying about pesky things like door handles. "Two of each of our sandwiches, please, and take them outside to the lovely gentleman and his wiurn. Thank you, love you, kisses!"
There. Problem solved.
Looking back, she probably should have known better.
Kadin got the sandwiches together and brought them outside, bless him. About five minutes later she began to heard shouting. Shortly after that, there was the sound of a body being forcibly thrown into the side of
her
building which
shook
with the impact. Rochelle stood up, fur standing on end, as she raced out the front of the building and around the corner just to see Kadin pulling himself up from where he'd been lying crumpled against the wall, blood on his chin from a bitten tongue and eyes
blazing
at the wiurn hissing in front of him.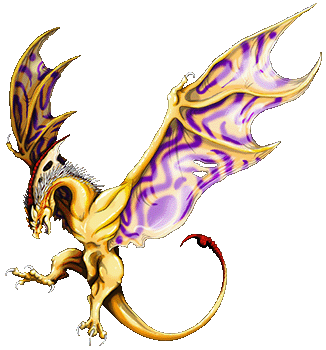 "What the
fuck
were you thinking bringing an untrained
wiurn
to a motherfucking COFFEE SHOP you
ASSHOLE
." Oh, my, he was angry. Rochelle couldn't help but let out a soft trill of distress at seeing her human so very banged up. Things got very, very quite after that as three sets of eyes focused in on her, two widening in horror while the third narrowed and
hissed.
"Rochelle,
RUN!
"
She didn't see the rest, too focused on getting out of there, but she could hear it. Kadin tackled the wiurn's neck, clinging to it with a single-minded determination. The wiurn, which had thought that a much more satisfying snack had practically walked into its mouth,
screeched
in rage at being tackled and began furiously beating its wings to try and remove Kadin. Kadin was screaming something at the wiurn's owner, something about using food or a leash or SOMETHING to get the wiurn to
back the fuck off
. That was when it all got muffled, she finally reached the safety of the inside, sides heaving, wings and legs and tail trembling as she pressed herself into the door, desperately listening for the sound of Kadin's voice just to make sure he was still relatively ok.
After what felt like a lifetime the yelling eventually petered out. There was the sound of scuffling and growls from the wiurn. Kadin shouted something about never coming back. And then silence. Carefully, Rochelle peered out the front and looked around, checking to see if the coast was clear. There was no sign of the wiurn anymore, but there was also no sign of Kadin. The silence was deafening.
1