Post by NPC on Dec 19, 2017 23:29:09 GMT -6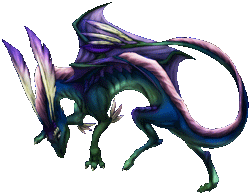 Name:
Acethylka (Aak-ee-thee-ill-ka)
Species:
Draconic
Gender:
Female
Age:
unknown
Native Language:
Draconic
Spoken Languages:
Draconicc, Common
Physical Description:
Image
Kudos to Darky!
Her scales are a deep blue, tinted with green around her legs, throat, tail, and wings. She doesn't seem to be of any one species of Draconics yet found, and is perfectly capable of walking on two legs. She prefers four, and is normally seen lounging on a large rock shelf three feet in the air, on the edge of the cavern she lives in, caring for baby Draconics. The ledge is positioned by the door- there is only this one door, heavy stone set with colorful images of birds and trees, and little lizards - so she sees all who enter. And, if someone hurts or tries to steal a baby, she's right there to toast them.
Oh yes. She breathes fire. Such a deep burning flame, that even a Thundergug would roast over it. She only gained the job through having the means to protect the young; she's not as smart as some others, who would come up with complicated puzzles or riddles to prove a human's worth. She knows enough to speak a few languages, Common being second to the language of her species. She lacks the brute strength to fight off evildoers; her body is slim and lithe, able to snap around like a whip, but a common Earth Draconic could knock her off her feet. She has no poison, no ice, no light. So she roasts those that harm her hoard.
Spikes are scattered across her shoulders, and she sports two curving, dark purple horns on her head. Her snout is tapered and narrow at the tip, sharpening to a point. Her eye ridges are a pale yellow, and her eyes are a clear gray. Her tail is longer than her body, tapering to thin as a small rope at the tip. Her neck, too, is longer than most, almost bridging over to the Fire Draconic's length. Her wings stretch along her side like a Sand Draconic's would, from the base of her throat to the base of her tail. The wings lay down toward the tail, like a fish's spines. She's more of a glider than a flier, but when you're in a cave most of the time, you needn't worry about flying to the sun.
Mental and/or Social Description:
She is very kind, having only the Draconic's well-being in mind. She wants everyone to get a happy ending, humans and dracons alike. To find a companion, a family member, is the ultimate goal for each of these babies, and she's only too happy to give them their chance at living a wonderful life. She gets nervous when multiple people are in her cave, especially if they outnumber the babies. However, she never loses her temper enough to toast anyone, unless the extreme is needed; theft, or harm, of a baby.
Other:
Her sister, the smarter of the two, spends her time writing in the giant book of breedings, and going through applications for breeding rooms. This sister is rather quick to snap in disgust, since so many seem so eager to pledge a short love, only to chicken out.
Her brother is the guard of the nests. While the babies are still eggs, he is there to make sure that the parents care for them. He disposes of the eggs that never hatch, and prepare the nests for the next nesting pair. It is also he that will make sure the babies get to their correct homes.
Goals:
Make sure no harm ever comes to the babies, an to find everyone a home.
Stats:Attribute:Traits:Skill Groups:Skills:Other:
Klyndilka is the sister, shades of blue tinged with silver on the very edges. She shares the same wing shape as her sister. She's irritable rather than sweet and kind. She likes order and is very precise. Eyes are a bright piercing gold/yellow. She takes care of the Draconic records, makes sure only up to five pairs get admitted, records the successful couples that lay eggs, etc.
Then there's the brother Rawnucylka, who's a coppery color, burnt-orange in his crest and down his back, with horns/claws/nose ridge of a steel-gray. His underside is darker than his back, and there are tinges of black on his face. He's got all the brawn in the family, so he serves as the guard, making sure no one tries to disturb the breeding pairs, start fights, steal eggs, etc. He makes sure the eggs are taken home by the parents and distributed fairly, then takes the remaining ones to Acethylka's rookery to be under her care. He's rough, but over all agreeable, like a knight charged with guarding the king's castle- does his job, but isn't mean about it if he doesn't need to be.