Post by Silver on Nov 3, 2020 6:14:42 GMT -6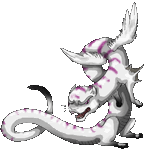 Now Silver wasn't the type to attend many public events, but this one sounded so lovely that they decided to push themselves out of their comfort zone so they could attend. It took place in the gardens, so it couldn't be that bad, could it? Either way, Silver didn't want to go alone, so they invented an excuse to bring Louise along with them. The whole thing could be a great learning experience for her - she could see a ton of unique things about human culture that she couldn't see anywhere else! That was the pitch they gave her, and she eagerly agreed despite not really understanding what it was all about.
With their costumes as ready as they'd ever be, Silver and Louise headed off for the gardens. They hadn't written down the exact location of the event, but they figured they'd know it when they saw it. Sure enough, the rows of fairy lights, bows, and bright orange decor stuck out like a sore thumb in the otherwise very familiar gardens. Silver paused to pull their homemade mask down over their face and took a moment to steady themselves before wandering in.
"Alright, Louise, you just let me know if..." Silver looked over to where they were expecting Louise to be, but she had already run off into the party. Panic set in during the brief moment before they saw her again. She had shoved most of her head into a large bowl of candy. "Louise!" Silver hissed. She knew that sound, and it meant that she was in trouble. She slinked out of the candy bowl with a gummy stuck to her face and looked at Silver with her biggest, sweetest eyes.
"Ah, it's... it's alright," they said. They didn't her to think they were actually mad, nor did they want anyone to see what had just happened. "It's just, ah, very rude, to take so much for yourself. The candy is for everyone, so you should only take one piece at a time, okay?"
1
[112.7, 3.6] [Silver is holding Sever Bond.]
[Silver picks up a piece of candy.]
Silver and Louise are wearing a 'couples costume' of a Talkesh!