Post by Fiera Ferella on Mar 7, 2021 21:32:27 GMT -6
It's time for the final poll! For weeks, you've all crafted a creature through the powers of pure chaos collaboration! Your resulting beast is a mystic, magical creature of esoteric biology, just smaller than a man (except for the rare gargantuan specimen), that is quick and nimble with mentality based powers that is equally comfortable underground, in the sea, or in the sky. I have spent the day trying to make a few designs that match that idea. But which one should it be? This is it folks- the next species gets selected here! Below are the designs and some quick notes about each.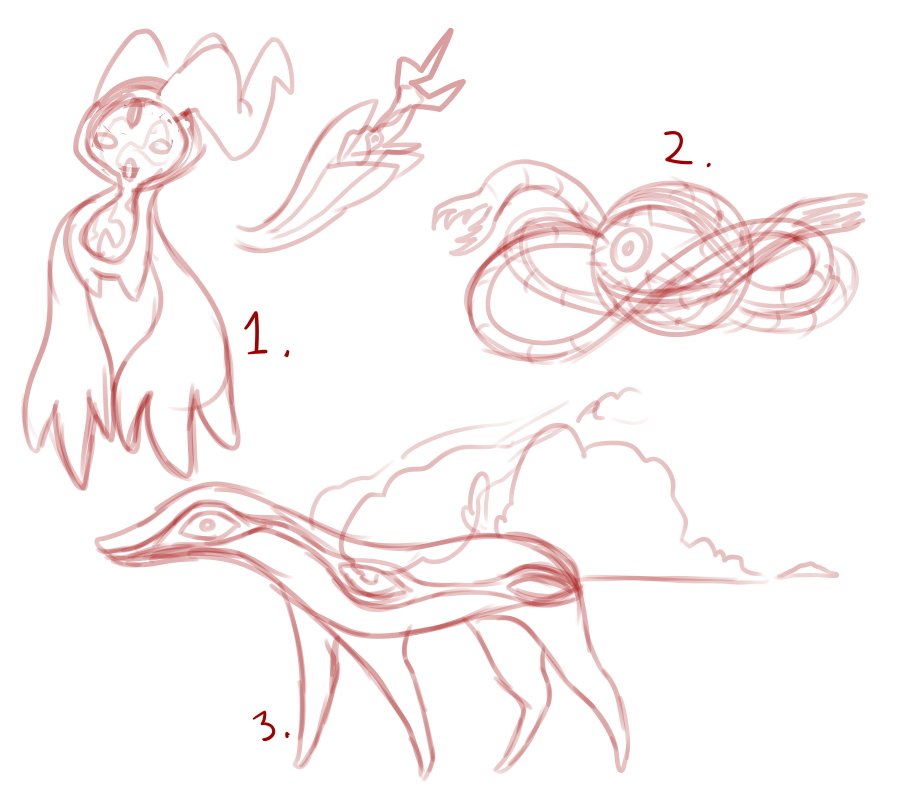 1. A creature that floats through the air, able to easily phase through matter and make itself as solid as it wishes, allowing it to go where it pleases- usually far off, isolated areas such as the depths of caves and the bottom of the sea. This is because of its unique powers- the ability to absorb and contain evil spirits, negative feelings, and bad magic. Each breed is drawn to absorb and devour different types of "bad vibes", resulting in the "inner chambers" of their jellylike, transparent bodies taking on different appearances such as glaring eyes, gnashing teeth, and swirling storms. This means that it has a tendency to purify the world around it, taking all of that energy into itself and containing it effortlessly without any harm to itself. In fact, it is even able to redirect these forces into deadly attacks via opening up "portholes" in its body. So if it takes no damage from this absorption, why does it tend to isolate itself? Well... they tend to be pretty delicate, and if one should die while around people? All that energy has to go
somewhere
.
2. Designed as a guardian of hidden spaces, this creature has no need for things so petty as "breathing" or "food" (though it does enjoy ripping things apart, so give it lots of paper? I guess?), and is equally as comfortable sitting at the bottom of the ocean guarding a secret base, or sitting on top of a hoard of treasure in a cave, or floating along behind an airborne shipment of secret documents. The "eye", as glittering and complex as a Fabergé egg is the creature's true body, and it generates mysterious, orbiting "worms" of pure energy to encircle it and act as its limbs. A slumbering guardian, it instantly wakes up and defends its ward fiercely when approached, only letting people through in specific circumstances... but like most fae, it is also a creature of rules, so if you can find the loopholes in those circumstances it can be quite easily circumnavigated. Needless to say, its fierce loyalty also extends to its masters, sometimes to their detriment.
Fear not, m'lord! Though you have broken your legs and are desperately in need of medical attention, I shall not let this... "ahm-buhl-arnce" come any closer to thee!
3. A creature of the sea, land, and sky? How about a creature that can be all three? This creature is acutely tuned to phases of matter, and is able to instantly turn into a solid, liquid, or gas, with its "wings" and tail reflecting what phase it is in. While it only masters these powers in adulthood, they are truly spectacular in a well trained member of this species. Despite that however, it seems... hollow. Perhaps that's just its face though- despite its vague resemblance to a quadrupedal vertebrate, it is actually completely hollow, with even its solid form having the texture and sound of a terracotta pot. What appears to be eyes are actually painted on, and it communicates by a flutelike whistling noise that echoes out from its body. This emotionless façade seems to be more stage fright than anything, however as many people have witnessed groups of these creatures clustering together at night and dancing under the stars, gleefully switching between forms without anyone there to judge them for it.