Post by Alma on May 30, 2021 19:58:41 GMT -6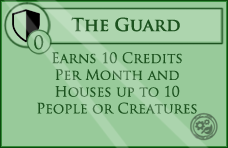 Some call it the Shining Crossroads.
It is a place that marries magic and technology into greater wonders than either could do alone. A place where anyone can become wealthier than their wildest dreams, a place where one can find such strength and power that they need not fear any assault. A place where anyone can be someone, where you can keep those you love safe and learn such things that you laugh at how little you knew before. Many come to the city to seek their fortunes, to seek some cure for a loved one, to find safety for themselves.
Once they arrive there, they learn all that they heard was true. And, as is with all wondrous things, there is more.
It is a place of rampant slavery and trickery, where the only law ever enforced is that no citizen can directly kill another, but a city of such wonders is full of sad little accidents. Those who seek safety may find their freedoms stripped away, those wishing for wealth may find everything they had taken from them. The true law of the city is one of power, that the strong take what they will and the weak bear it. Any wealth you accumulate may be taken from you, herds of beasts shredded by roaming wiurn whose owners only wish for their pet to hunt, gems from the mines taken by beasts with an eye for shinies whose owners laugh and store away the prizes. People's very souls stripped away piece by piece by those seeking to increase their magical power, or tricked and sent to work for an ever increasing debt.
And yet, there are the police and the Sentinels. Both full of folks who either want their own piece of one's wealth, or fear the possibly fatal repercussions of attempting to stop a beastmaster or arrest a mage. The Sentinels try to keep their gazes outside the walls, waiting for invisible threats that never come to harm the city, and even the best police officers can do little more than give a half-hearted warning to those more powerful than them. And the victims know not to weep should they have even one last thing they value, for such a disturbance will see the wolves close around them.
What could be done to counter these threats? The more powerful one is in the city, the less they appear to care for their fellow citizens, instead chasing their own goals with the tenacity of a vulticus, caring not for those trampled beneath their feet. No one could possibly be foolish enough to attempt to fight them, right?

Meet the very fools.

[Regarding Membership:
The Guard is sort of just a fun RP thing, but there are simple ranks(Recruit->Falconer/Cavalier->Knight->Titled), a ranking system(Renown based on missions and quality) and so on in case folks want in. If you want in, please dm me or something and we can work it out.]