Post by Twilight-Claw on Mar 4, 2023 16:35:08 GMT -6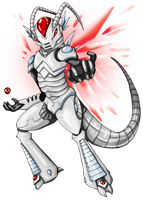 With last month's success on a rather large purchase she had made, she decided to head to a shop she hasn't been to before, but always wanted to do at some point. Though as she is rather busy in her kennel, she instead decided to send her Trod out instead with half her mind focused on just walking where to go while carrying a rather important backpack, and the other half occupied with feeding her animals. It is no surprise that at some point she apparently went the wrong way with the Trod as she missed a sign, and has to backtrack.
Taking a small break from feeding her Balgors a still very bloody carcass as their lunch, it still took a while to find the actual shop as she hadn't known nor asked what the building looked like when she inquired in a café if there might be somewhere in the city one who sells rather rare or nearly extinct creatures.
But finding the shop, she did in the end. Opening the door, she steps inside, with her steps sounding loud against the wooden floor when she does. "Hello ma'am." She calls out when seeing the counter is occupied with just the person she is looking for. Heading to them, as there is near her a black Galabex, she takes off the backpack she has her Trod's body carrying. "I am looking for five creatures that might likely be a tad difficult to find." She looks directly at the short women when saying it, opening the compartments she needs, almost blindly as she takes out a few bags of coin. Settling it right there between them. "Would it be possible to gain two Crystal Tat-Lung's, an Dust Weaver, an Eclipsion Enileaf and one Frostnip Vulticus? All as young as possible? So that raising them will be easier to do." She isn't worried that the amount she has placed between them would be too little, she had at least not forgotten to ask what the prices of the services this shop might be.
So she is fairly confident that things will be fine, its just the question now if they would be able to find what she is looking for.
To Buy
Crystal Tat-Lung – All Stages, egg included 2x 500c
Frostnip Vulticus – All Stages 1x 250c
Eclipsion Enileaf – All Stages,
egg included
1x 250c
Dust Weaver – All Stages 1x 250c
Siam Estharne - All Stages 1x 200c
Black Estharne - All Stages 1x 200c
Grey Estharne - All Stages 2x 200c
-----------------------------------------------------------
= 2550c