Post by Riku on Feb 21, 2021 20:56:09 GMT -6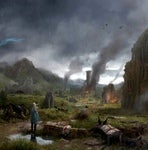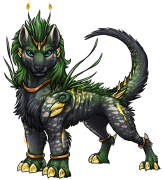 Aslan
They walked through the cavern side my side. It was a bit wider than the usual tunnel, and Riku appreciated the extra space. Sometimes they had to walk in a line, but this one allowed them to travel side by side, even with the buggy. The dirt was a little bit lighter and looser, and there were spikes in the ground and hanging from the ceiling that signified water at some point. He loved finding water so deep underground...it really peaked his curiosity!
Aslan had his head high as he walked beside his new friend. He approved of the human and felt something quite special about his spirit and demeanor. He wasn't all to aware of the feeling, but it was there. He felt very proud to adventure with him today. He could smell the moisture in the ground and felt a familiar essence around him of different mosses that were discretely growing where they hopefully wouldn't be found by hungry scavengers.
26 // Aslan 8.2 // Riku 0.05
(Totally not OCD, putting this new venture on the next page)
_____________________________________________
Riku often had some sort of Malii with him when he mined, but today he felt like keeping things simpler. Aslan was still new to the family and deserved some quality time. Besides, many of his favorite Malii didn't like the dark or dirt of the mines. They were more fishing creatures than mining ones....Aslan, on the other hand, was literally a mining companion. This was his terrain and he was great for helping find stones.
The Lionheart sniffed around as they neared a turn in the path. There were times when he just walked beside Riku, but there were other times he caught onto something and took the lead. Catching an interesting whiff, he let out a higher, playful growl and leapt onward ahead.
Going around the corner, the cavern opened much,
much
wider...! It was possibly half a mile wide and just as long! Riku had never seen such a sight!
27 // Aslan 8.4 // Riku 0.10