Darky
Dec 13, 2017 11:09:23 GMT -6
Post by Darky on Dec 13, 2017 11:09:23 GMT -6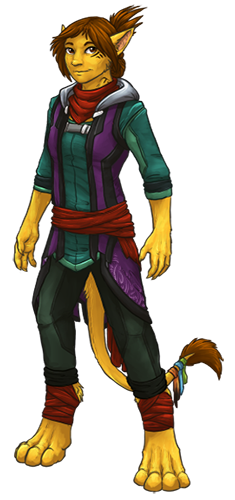 Name:
Darky (D'Arcanlan Sekwat'chiav)
Species:
Sphinx Mammalian
Gender:
Female
Age:
20
Native Language:
Toweobitih
Other Languages:
Common, Shakaash, Tumai
Marks Worn:

Physical Description:

Mid-back length brown hair with a shorter chop on either side of her face and a few stray strands, which match her slightly darker brown eyes. Short golden brown fur covering the entire body, from face to the bottom of the toes. Physically is built closely like a lion, although the front of the face is flatter, similar to simians, the nose a recognizable human shape. Other traits include pointed versatile ears sitting lower on the crown of the head than is common for mammalians, and dexterous hands lacking inner paw pads yet adorned with short, dull claws at the tip. Appears to be of a medium build, not bulky, but athletic enough, suggesting day to day physical work of one kind of another.

A more personal physical characteristic seems to be the ever so occasional scratching, biting, scorching or other similar minor injuries just below the coat of fur or slightly dotting out of it, particularly followed in the wakes of creature training.

Attire is often simple and loose enough to allow limb movement, but not overly flowing; commonly red, green or tan in colouration, mixed with dark teal or violet. Town-going clothes usually consist of a pair of dark green slacks or past-knee shorts, topped with a longer robe-styled shirt of either dark teal or light sea-green (longer sleeves optional). A violet and black open vest jacket is commonly worn over these, switching out to a warmer closed-up and fleece-lined one for the colder seasons. In the winter months the attire varies based on temperature, with the worst of the colds creating a phenomenon known as a "sphinx-burrito" made up of jackets, scarves and socks. Traditionally, is not seen without a red or crimson cloth sash wrapped around the waist and sometimes has a similar coloured bandana worn around the neck like a light scarf.

Has a thing for green and deep red jewellery.
Mental and/or Social Description:
Having gained wisdom in part through her experiences in the Labs, and in part from Mear's teachings, her sense of the world has changed considerably and taken on more serious notes than prior. While a certain amount of blue-eyed ignorance will always remain, a much more steely and sharp eye is now turned towards situations and problems, a calm and precise mind working through varying options to find the better solution of all others. While making her slightly more distant, the inherent curiosity of testing the bounds in favour of further knowledge has not gone away entirely.

Within normal social circumstances, is not beyond holding out a helping hand nor jumping into dangerous spots when necessary, even if her underlying fear of being unable to escape may cause her to later regret the deed. While steadfast in reaching her goals, both personal and general/fleeting, she tends to want to see the better in people when possible, thus making her judgement in character often quite bad if faced with duplicitous kinds. This can, at times, bring her into conflict between doing what feels honourable versus what is necessary, at times even demanded by the rules of one establishment or another. Ideally she would prefer to find a compromise in such situations.

With the ability to lose sight of the overall goal, she is capable of getting caught in the moment or the pressing issue, particularly in the formerly mentioned cases of uncertain conflict, requiring an outside force to bring her out of it. Presently, the agate tat-lung has taken this as one of his primary tasks, yet cannot always be around to do so. As such, her skill of managing on her own can vary greatly from successful to utterly failing, depending on the degree of the conflict.

True to her own people, is hard pressed to say more about her background or the topic of name more than is necessary for others to know, yet rarely refers to this as anything more or less than simple tradition. The sphinxes of her tribe do not give out their true names, unless in complete trust, rather instead use pseudonyms or nicknames as references in the meantime. This indicates that any events in her past are not likely to have been unfortunate.
Goals:
- Visit Tumai, the Southern Jungle and Eastern Ocean.
- Train up a guardian group of creatures for the Hideout.
- Do something about the Lurker-bloods..
- Collect every gemstone from the Mines.
- Earn a war veterancy.
- Craft an Earth Node.
Stats:
Stamina: 4
Strength: 3
Resistance: 3
Dexterity: 3
Mentality: 3
(Stallion's Stamina +1 Stm)
(Alternative boosts: Fleet Wings Greaves +1 Dex, Gloves of Nimbleness +1 Dex)
Special Abilities:
Swim
Moves:
Combat Expertises
,
Magical Spells
, Climb, Holy Shield (1/day)
Level:
456 (6/10)
(1/20)
Attribute: Desert-Dwelling

Traits:
Placid (-1)
Adept (Combat) (-4)
Phobia (+3) (Agoraphobia)
Stallion's Stamina (-2)
Feline Curiosity (+1)
Cat's Balance (-1)
---
Total: 2
Skill Groups:
Combat, Artisan
Skills:
Points: 462 (4 base + 456 level + 2 trait left-over)
[Academic] +2 cost
Literacy (-3)
Riddle-Speaker (-3)
Mythology (-3) I ''''
Foreign Script (-8) II - Common
Foreign Language (-8) II - Common
Foreign Language (-4) I ' - Labs Sign

Foreign Language (-4) I ' - Shakaash
Foreign Language (-4) I ' - Tumai
Foreign Script (-4) I ' - Tumai
Local Lore (-3) - Abiharim
Proper Language (-3)

[Artisan]
Artist (-1)
Author (-2)
Painter (-2)
Welding (-1)
Smelting (-1)
Smithing (-2)
Carpenter (-3) I ''

Gem Cutter (-15) V
Jeweller (-10) V
Silversmith (-3)
Metallurgy (-4)
Architect (-6) II '
Mason (-9) III
Fletcher (-3)

[Botany] + 2 cost
Agriculture (-15) III
Expert Gardener (-6)
Berry Picking (-3)
Toxin-Wise (-3)
Plant Lore (-3)

[Charisma] + 2 cost
Barter (-6/-2 Book) II
Never Give Up! (-12) - Nightmare
Never Give Up! (-12) - Mear

Morale (-8)

[Combat] half cost, rounded up

Acrobatics (-3) I '

Mounted Combat (-10) V

Blademastery (-16) XVI '

Martial Arts (-6) VI '

Vigilance (-24) XII '
Spearguard (-2) II '
Exotic (-16) VIII '

[Husbandry] + 2 cost
Ride Mount (-4) - Equillion
Ride Exotic Mount (-4) - Nyssa
Ride Exotic Mount (-4) - Poofasaurus
Clever Communication (-8) - Tat-lung

Gem Caller (-10)

[Magic] + 2 cost
Feel the Node (-6)
Magical Awareness (-4)
Learn Spell (-5) - Slicing Winds
Learn Spell (-4) - Spectral Winds
Learn Spell (-6) - Stone Shield
Learn Spell (-4) - Headwind
Learn Spell (-3) - Breeze
Learn Spell (-3) - Voice
Learn Spell (-4) - Push
Learn Spell (-5) - Scry

Mystical Shield (-3)

[Marksmanship] + 2 cost
Marksmanship (-35) VII '
Mounted Archery (-25) V
Hawkeye (-16) II
Wasp (-8) I '

[Seamanship] + 2 cost
Swimming (Book)

[Survival] + 2 cost
Climb (-3)
First Aid (-3)
Wild Speak (-5)
Knot Know-How (-3)
Wilderness First Aid (-6)

Cleanse Water (-3)
Cartography (-5)
Build Fire (-3)

---
Total spent: 446
Total left: 16

Books Read: