Post by Ashe on Aug 18, 2021 18:01:10 GMT -6
I have multiple plotlines going currently! And my characters are up for just about anything. Click the names for character sheets!
---
Ashe
:
-He is going through a breakup with Vix and isn't taking it well.
-He is in the process of opening an Equillion training facility, and will be training Equillion to do anything from barrel racing to dressage.
-He is always up for something spooky, like a haunted house, or something VMM related.
Want to stop by for a drink at the Midnight Panther? Barfight? One night stand? Awkward emo drama? Adventure together? Trail ride? Rodeo? He's available!
Plot Area
rps are awesome! But not loot areas, Ashe is a greedy character and would want everything for himself.
---
Jinx
:
I am fleshing her out currently, she has gone through a bit of a revamp, and I find actively RPing helps the development quicker!
-She is a princess from a destroyed land, setting up a temporary residence in the city.
-She communes with dragons.
-While she doesn't have nodes of her own, she has her own abilities and works with spirits, trying to reach deities.
In the meantime, she trains what dragons the City has to offer. She loves exploring and adventures. She likes to dance and have fun, walks in the park, swimming.
Plot area, Loot areas, anything really
RPs are welcome! She is not greedy. ICly, this causes her to miss out on valuable things sometimes.
---
I want to delve more into the world of Draconics, with plots. They can be friendly RPs, breeding plans, or more long term stuff (assuming they get along well enough in the short term). If you want to give anything a shot, feel free to post here (or PM me if you prefer). I'm open to most things at this point, as far as Draconics go!

Ashe's clan includes: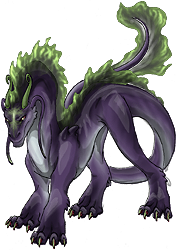 Santiago!
His reputation precedes him. He will make a visit to the clutch temple with anyone. He has little care for long term romantic relationships (repeat visits are fine, just non exclusive), but friendships/allies are always welcome.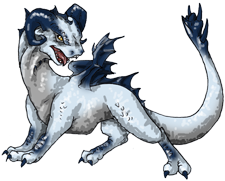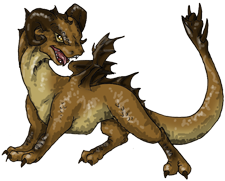 Azrael
and
Trish
.
They may be from different clutches technically, but they have been raised together as siblings and consider themselves blood. Usually found together, they like digging and exploring caves. They aren't interested in drama, don't speak Common well if at all, have short attention spans, and they are very loyal. Friends and mates must be sibling approved! (get along with both)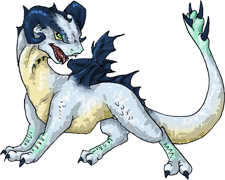 Daksha
, daughter of Azrael and Starburst.
She is smarter than her father; just enough to concern herself with being 'better' than what she is. A little insecure, questioning and doubting. Otherwise, loyal and friendly.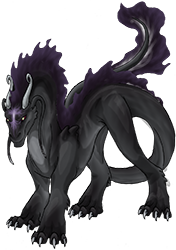 Hel
, daughter of Santiago and Jack's Ivy.
She is a trickster, enjoys causing chaos and getting into trouble. Will be utilizing Trick of the Incubi and will be dipping in and out of relationships as fast as her dad. She is self-obsessed and thinks she is the best thing since sliced bread.
CURRENTLY BABY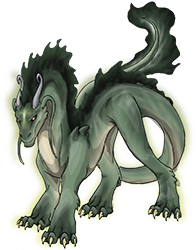 Sobek
, son of Santiago and Jack's Ivy.
He is protective of his family and does his best to neutralize any scuffles. A good boy, steadfast and determinedly loyal, a real "big brother" type. While he prefers the less violent way of breaking up fights, if someone he cares for is hurt, hell hath no fury like his.
CURRENTLY BABY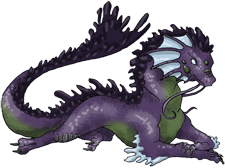 Lucrecia
, daughter of Santiago and Silver's Nomi.
Intelligent and curious, she loves to learn and explore. She wants to know everything and is a quick learner, often picking things up just by watching.
CURRENTLY BABY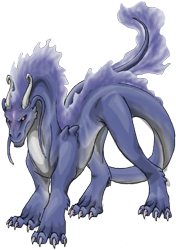 Phaze
, daughter of Iolite and Alkatraz.
She is kind, perhaps to a fault, and always willing to help. She is the babysitter of the cave and craves the company of hatchlings. She wants some of her own to raise (and once those are old enough, she'll surely want more!). She's less picky about who the father is, as long as she's getting what she wants. With her sweet motherly demeanor, she gets along with almost everyone she meets.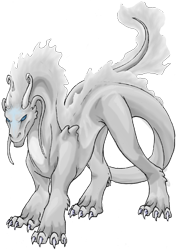 Frigga, Daughter of Thorn and Phaze.
Quietly wise and observant. She enjoys the peace and quiet of the night and can often be caught stargazing. She knows the phases of the moon in her blood and has an uncanny ability to predict things. She does not seek out company and prefers to be alone; being surrounded is too stressful.
CURRENTLY BABY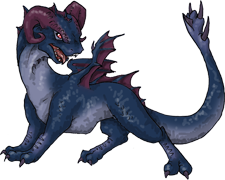 Morpheus, son of Thorn and Phaze.
(Not Fleshed out)
CURRENTLY BABY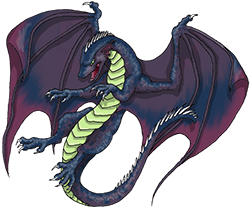 Nightshade, son of Spyte and Daksha.
(Not fleshed out)
(Can be baby or grown)
---
Jinx's clan includes: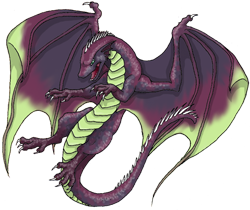 Spyte
, son of Frezic and Tvisha.
Currently going through an identity crisis because, during a breeding, Daksha pointed out his name is hurtful. He wants to make his own name for himself! He is gentlemanly enough, will play nice or rough depending on his company. He is the "strongest, toughest" in Jinx's clan, but that doesn't say much.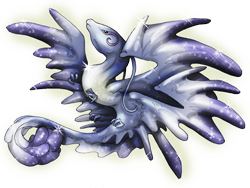 Alkatraz
, son of Santiago and Tala's Saez.
Intelligent, polite, but a bit lonely. He gave up his daughter, Phaze, to be raised with Ashe's clan, thinking she would have a better life there. He questions things and wants to know the answers, often floating around alone pondering life.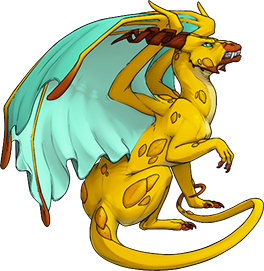 Starburst
.
A tad bit shy, she has an overall cheerful demeanor. She faces new things head on and doesn't hesitate long before plowing ahead. Never one to turn down an adventure! She isn't the most doting of mothers and might be a little too energetic and wild to settle down properly with a family.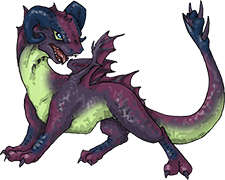 Thorn
, son of Spyte and Daksha.
He tries his best. His father raised him to be polite and thoughtful, though that sometimes clashes with his age and attention span. He doesn't know what he wants yet in life and is nowhere near ready to settle down. He has the goal of being a suave ladies' man, but he's too socially awkward.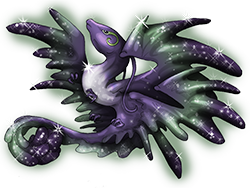 Kvasir, Son of Santiago and Ivy.
Moody poet. Not completely fleshed out yet.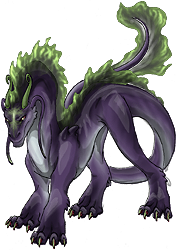 Arabel, female
(Not fleshed out)
CURRENTLY BABY
Katla, female
(Not fleshed out)
CURRENTLY BABY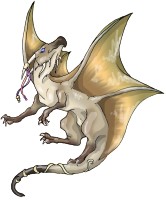 Layall, female
(Not fleshed out)
CURRENTLY BABY